Last summer, when our organization asked the Glass House Collective staff and board members to sign a Black Lives Matter statement of solidarity that we published in June, we also began an intentional process of deconstructing our own biases and examining racism within the systems and power structures at work in our community, our nation and the professional space of creative placemaking.  
Thanks to a grant from the Lyndhurst Foundation, we were included in a placemaking cohort of 4 local organizations to participate as a group in Anti-Racism + Cultural Competency (ARCC) Training. The ARCC Training model is a part of Bridge City Community and designed to identify internalized racial dominance and/or oppression within individuals by examining the effects of socialization through guided introspection. "Identifying and examining racism within the systems and power structures at work in our community and our nation results in a critical, racial framework that leads to action that disrupts racism in its various forms. ARCC helps organizations to decolonize the way they function in order to create a shared-power structure," according to the ARCC website.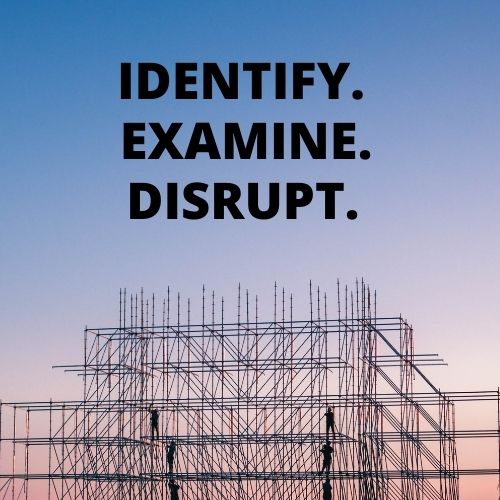 The training was essential for our organization to get deeper into the self-examination and brave conversations necessary to understand the depth of the wound of racism and the radical humility needed to reach empathy and healing. 
After working in the large cohort group that included members of the staffs and boards of Chattanooga Design Studio, Thrive Regional Partnership, and Carl Vinson Institute of Government at The University of Georgia, we continued GHC's deep dive with more focused sessions and a customized curriculum that included bringing in Donovan Brown as the curriculum facilitator for the remainder of the training. Glass House Collective's staff continues weekly discussions examining the organization's practices and policies against a continuum of measurements that keep us accountable. 
Today as we head into Spring with a shot of hope in our arms, we are learning that action and doing are not always the best next steps. In fact, we can see where pushing too soon even with great intentions can do more harm than good if it's just not the right time or even what's needed.  "We're a planning by doing creative placemaking organization so it isn't hard to see how moving into a pausing posture is not our first impulse. Learning is also the work. Listening is also action," Teal Thibaud stated. 
The next steps for Glass House Collective include creating equity principles that will guide organizational decision-making in the future. We will also meet with the other organizations in our cohort to discuss future collaborations and ways to ensure that equity remains at the forefront of placemaking in the Chattanooga region.
http://www.glasshousecollective.org/wp-content/uploads/2021/03/ARCC.jpg
500
500
mary
http://www.glasshousecollective.org/wp-content/uploads/2019/03/ghc-logo-large-2.png
mary
2021-03-12 16:40:12
2021-03-12 20:40:44
Anti-Racism + Cultural Competency Training at GHC