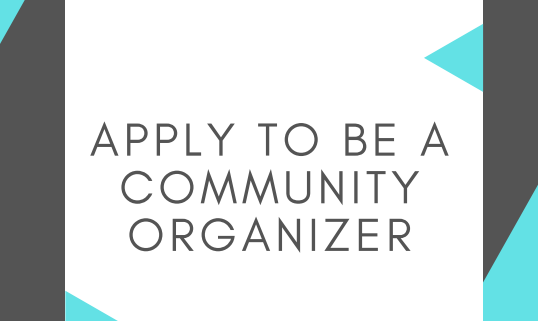 Applications are now open for a new program coming to East Chattanooga, designed to strengthen more emerging neighborhood leaders.
The Community Organizing Training program is for residents of East Chattanooga and artists interested in social change. The eight week training program will provide a learning opportunity for participants to become a part of the next wave of community organizers who will be leading and driving change in East Chattanooga.
Participants will not only receive a stipend for their time attending all eight training sessions but they will also become part of a project team who will be awarded additional funds to tackle an issue together this summer.
Being a leader in this community means different things to different people.  Leaders arise out of neighborhood and community groups, civic associations, and faith based organizations. But those are not the only places or criteria.  What is getting in the way of you becoming a more powerful person or leader right now?
"Community organizing is both a tactic to address specific problems and issues and a longer-term engagement and empowerment strategy. When residents are not equipped to take an active role in shaping the future of their communities, they often feel like forces are acting on them instead of with them. This sentiment robs the city of the full participation of its people. On the other hand, successful community action can build skills for future leaders while changing the environment in which social decisions are made. For true progress to be made, Chattanooga needs more people at the table, and more hands in the dirt."
DETAILS
The training is open to five residents and five  artists. A $575 stipend is available. Application deadline is Monday, May 20th. After the training, participants will continue to work together for two months on a new project they've identified during the training. Participants will select a community issue that's important to them, and then work with their team of social change artists and East Chattanooga residents to develop a project to address that issue. Topics and outcomes will be decided by the participants themselves. This work will be supported by a $2,000 grant that will be put towards their idea. Example projects could be ways to calm traffic on busy streets, or creating a series of artistic posters to spread the word about the issue at hand, or a performance event to encourage enthusiasm among neighbors.
Big thanks goes to Erica Roberts, principal creative director at Velvet Poetry Productions, who is acting as lead artist of the leadership training curriculum and CALEB (Chattanooga in Action for Love, Equality and Benevolence) has developed and will deliver the training. Thanks to the program sponsors with CNE, Community Foundation of Greater Chattanooga, and the Footprint Foundation who have made this offering possible.
APPLY AT THIS LINK. 
You may contact Glass House Collective at (423) 402-0565 or info@glasshousecollective.org with questions.
http://www.glasshousecollective.org/wp-content/uploads/2019/05/Screen-Shot-2019-05-13-at-1.47.55-PM.png
610
538
glasshousec
http://www.glasshousecollective.org/wp-content/uploads/2019/03/ghc-logo-large-2.png
glasshousec
2019-05-14 20:26:18
2019-05-14 20:26:18
Call For Applications