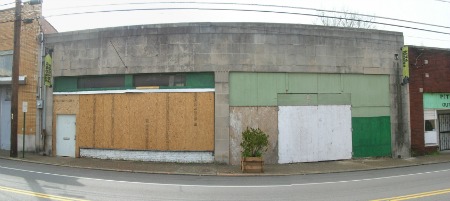 It is my distinct pleasure to announce that, after an extended hiatus, the Barlew Blog is back! I'm ready to cover the exciting, novel, and thought-provoking projects, news, and events from the world of Architecture and urban design!
So what's been keeping this Architect, urbanist, and blogger away from his word processor? In a word, work.
Since I last posted to barlew.com about the amazing whirlwind that was Better Block on Glass Street, I've been working on a number of different design projects, both in Chattanooga and around the state. Simply put, I've just been so busy that I haven't had time to blog. These posts don't write themselves, y'all!
Some of that work includes an exciting project currently underway on Glass Street: the Building Facades Improvement Project.
Beginning in November of last year, Glass House Collective and I began collaborating to develop a grant program to renovate and rehabilitate the existing building facades along Glass Street's commercial corridor.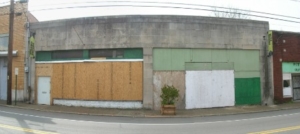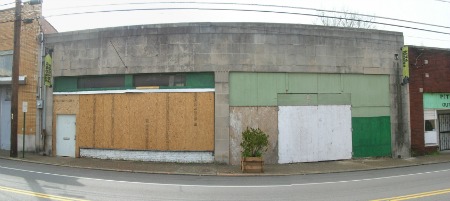 Image provided by David Barlew, Jr.
Because most of the buildings on Glass Street are vacant and because most of the existing building facades on Glass Street are boarded up, we wanted to develop a grant program, which would bring some life (both literally and metaphorically) back to these largely abandoned structures. We realized that the free market was not going to bring the funds, businesses, and individuals necessary to return Glass Street's unoccupied building stock to functional use. At least not with Glass Street looking the way it does now, anyway. Therefore, the initiative to renovate the commercial corridor had to be a grant program. I envision the Glass House Collective Building Facades program functioning as a means to lower the bar of financial entry such that an individual or business could purchase one of these buildings and develop it.
Ultimately, we settled on a matching program where building owners would supply some of their own funds and Glass House Collective would match their contribution at a predetermined rate. With all of the paperwork and logistics (mostly) settled, it wasn't long before Glass Street's building owners started applying to be part of the program.
In April I began work on the Construction Documents that will guide this work.
 Image provided by David Barlew, Jr.
I started by sketching the existing buildings. I noted what materials I reasonably thought made up the buildings' facades, and I tried to ascertain how the buildings were assembled. I measured as best I could the faces of the existing structures, and I recorded those dimensions on my sketches. Field conditions, though, make it impossible to verify all dimensions, materials, and assemblies, even in an existing building.
Image provided by David Barlew, Jr.
After returning to the office, I converted my loose, hand drawn sketches into hard-lined, digital drawings using a drafting program. Some of the information is approximated because neither my measuring in the field nor the buildings being measured are perfect.
With the buildings documented, I initiated the creative process, creating schematic designs for potential improvements to the main face of each structure.
 Image provided by David Barlew, Jr.
After arriving at schematic design drawings, I sought the assistance of a local Contractor; per Glass House Collective's request, I asked him to prepare preliminary cost estimates so that Glass House Collective, the building owners, and I could evaluate the "ballpark" cost of each design.
The Building Facades Improvement Project is currently moving through the Construction Documents stage, during which the final building plans are being produced. It's an exciting time, knowing that we are so close to the construction of this project, which holds so much promise for the revitalization of Glass Street.
With the possibility of this project opening up for bid so close at hand, I reached out to James McKissic, the City's new Director of Multicultural Affairs. Because it is of the utmost importance to Glass House Collective that minority and women owned businesses have a chance to bid on the construction of this project, I sought James' invaluable assistance in making this project known to those segments of the Contracting sector. His suggestion was that Glass House Collective and the City's Office of Multicultural Affairs host a free, optional, non-mandatory pre-bid meeting open to the public to announce the project and field questions from the attending Contractors.
 Image provided by Glass House Collective
So, that's what happened. James created an announcement, released it to the public, and—boom!—we had a room filled with construction professionals!
Image provided by James McKissic
Contractors, subcontractors, and product suppliers filled the first floor of Glass House Collective's headquarters on Glass Street to learn about the project, review the in-process drawings, and submit their questions. The meeting James organized was a really informative and helpful event, and the attendees provided us with a lot of really beneficial feedback.
Due to some of the helpful responses to the project we received, there are some details and logistics yet to work out before I release the plans for this project. But, be on the look-out for changes coming to Glass Street.
Boarded-up buildings may soon be replaced with shiny, new storefronts as we work to bring life back to Glass Street and Glass Street back to life.
Blog written by David Barlew Jr., view the original post here.
http://www.glasshousecollective.org/wp-content/uploads/2013/07/Glass_Street_Building_f.jpg
201
450
Teal
http://www.glasshousecollective.org/wp-content/uploads/2019/03/ghc-logo-large-2.png
Teal
2013-07-19 14:50:15
2013-07-19 14:50:15
Facades Improvements by David Barlew Jr.