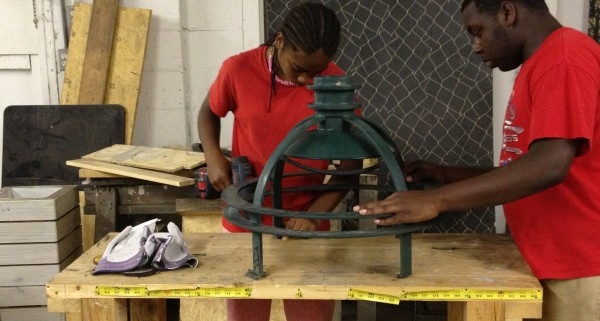 On an empty concrete slab on Glass Street, a handful of teenagers mill around eating pizza…dreaming, planning. It could be called a lunch break, but they've passed up the couches in the air conditioned building across the street. Something compels them to stay in the hot July sun they've been in since 9 a.m. They're standing in their space – a place they hope to transform from eyesore to music playground in two short weeks. And the clock is ticking.
This ambitious undertaking is part of Glass House Collective's Design/Build camp – a free, two-week program for ages 12 and over. In 10 sessions the campers are led through a complete design charette led by local architect, Kelly Fitzgerald and artist/sculptor, Rondell Crier, assisted by UTC student Taylor Vanderhorst. The end result will be an outdoor installation that will engage the community and activate the space – a place where flower pots become drums and salvaged metal becomes wind chimes.
"We're changing the neighborhood by making it prettier," says Amari Harrington, 12. "I've learned how to drill, paint, cut wood – it's much bigger and better than I thought it would be."
GHC co-founder Teal Thibaud has seen projects like this be successful across the country, but her vision was to scale it back. Instead of bringing in outside organizations with large budgets, she wanted it to be more grassroots and engage area youth. "It's been really great to see the process," she says. "Kids dream and brainstorm. They don't have boundaries and are creative even when they don't mean to be."
Fitzgerald agrees. "Unless you have community buy-in on the front end you don't know if people will really use and maintain the space," she explains. "Plus the kids are going to be here for the next 20 years. We want them to feel like they were a part of this growth that their community is experiencing."
This summer was the pilot for Glass Street Summer Camps. Each week, a different organization led art-related camps, culminating in the Design/Build concept. To get it off the ground, the church across the street from GHC's offices, Community of Christ, donated the property and a $5,000 budget. Several suppliers have donated or given materials at cost.
During the first week, campers brainstormed what the space would be. From there they designed it from the ground up – building scaled models, drawing designs to be painted on the concrete slabs and visiting salvage yards for materials. The second week they've been implementing their vision. And as with any building project, time and money are a concern.
Working with repurposed or donated materials brings it own set of challenges. They're still waiting for the wood to arrive before they can finish the deck/stage, which was given at cost by Lowe's. TVRM has yet to deliver the large metal barrel and cart from their bone yard, which will become a large drum and bench, respectively. And they're still trying to secure LED lights in time from Global Green Lighting to illuminate the space at night.
"You have to sort of work on the fly," admits Crier. "Some people find it scary but it keeps my creativity flowing – it's a challenge. It also teaches kids about problem solving, thinking things through and coming up with new ideas if the original idea doesn't work."
Moving from New Orleans after Katrina, Crier has worked with over a hundred kids aged 14 to 25, and is not afraid to put a miter saw or concrete grinder in their hands. "I'm not afraid to let them learn things that some people would be fearful of," he says. "I think that fear limits their potential and the impact they can make in the community."
Cadarius Harris, 17, appreciates his approach. "We're having fun getting to work with the tools and be hands on. Nobody's doing this for us. I can't wait until we get finished and see what our hard work has done."
By the end of the week, they hope to see all of their ideas come to fruition. But Crier hesitates to define success so narrowly. Already the kids have learned skills that will not only prepare them for the workforce but also for life. They've learned to handle power tools, pour concrete, work within a budget and plan, measure and build. Beyond the practical knowledge, they've learned how to brainstorm, see a project start to finish, work within a group and form partnerships. They've literally gone through the motions of a typical designer, artist or architect – considering how the space will be used, what will make it welcoming and sustainable.
"Our plans are ambitious, but you have to understand what success is," says Crier. "It would be great to see all of our ideas come to life. But true success is engaging these kids for a two-week period. The community passes by and sees them working. That's already success in my eyes. To see a structure standing is icing on the cake."
Facebook Album can be viewed here.
http://www.glasshousecollective.org/wp-content/uploads/2013/07/IMG_2201-e1375386802733.jpg
450
600
Teal
http://www.glasshousecollective.org/wp-content/uploads/2019/03/ghc-logo-large-2.png
Teal
2013-08-01 20:12:55
2013-08-01 20:12:55
Glass Street Design/Build Camp – Something from Nothing