Sitting here in silence. I cannot say that I am completely in shock over the unfair news that Breonna Taylor's killers will not be held accountable for her death. I am feeling hurt, undervalued and very disappointed. Black women lives have value. I matter. My life matters.
While this hateful news was making its rounds on tv and social media, I was sitting with an amazing Black woman getting information for this entry. It is inferior to call our exchange an interview because it was so much more. 

DIVE IN….
I met with the lovely County Commissioner Katherlyn Geter who is the executive director of  Purpose Point Community Health Clinic located in the Glass Farm neighborhood in East Chattanooga.  
Our conversation began with a proper tour of the clinic. It is a real clinic! They will be announcing their opening very soon. We will be on top of it as soon as that great news is ready to share.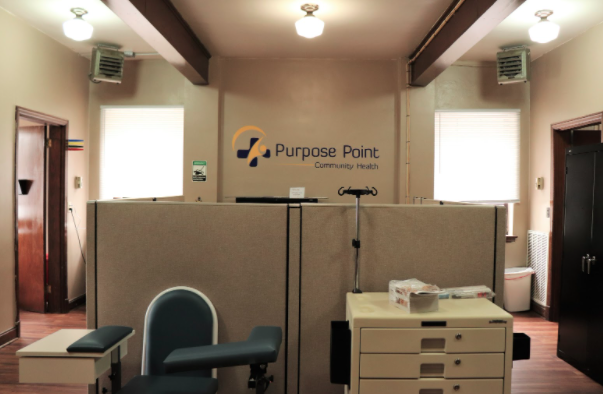 This safe space of healing is in the heart of the city nestled within the safe walls of MT. Canaan Baptist Church. Purpose Point is a faith-based clinic created for everyone. 
Ms. Geter speaks passionately about her love for serving the people. She realized that gift as a youth and it has become her true love language. She is a mother who knows the power of involvement. She serves her community well.
MT. Canaan Baptist Church has been a solid presence in the East Chattanooga community for years. It only seemed natural for the clinic and the church to build together in this most healthy of ways.
Ms. Geter and I spoke on what being a creator truly means.  

The question: Are you a creator is such a humbling question. It requires one to first revisit the meaning of that word and then apply it to the work being done.

She made absolute reference and showed thankfulness to God for being the creator and as we continued speaking the thoughts began to surround the womb and how that seed grows.  Timing and temperature play huge roles in how that life begins. It is because of those facts that WE know how special WE truly are, even when society feels differently. 

In our talk we spoke of life as Black women working in communities and that there was a healthy respect and understanding that we are in this together.  
It is easy to forget that fact. 
I asked Ms. Geter "What seeds will you be planting next?"  She paused for a pregnant moment and smiled. She seemed to be speaking internally to the spiritual farmer within. She took in a deep breath and said that she wanted to serve the community in a more intentional way. Single mothers need empowerment and they need to be mentally supported. She wants to be able to create safe circles of care that can help them. We both know what that feels like. We spoke on the strength of being a mother and how our lives were changed by souls that we birthed.
I am thankful for this conversation. It felt like sisters sharing life lessons. Ms. Geter has a wealth of knowledge on healthcare and on how to work in the community. 
It was a pleasure to be able to sit with her. 
When I left the talk, I felt energized and empowered. I was inspired by Ms. Geter's seed and service approach to building the community.
As you read the poem above: 
Breathe in deeply…
Read Underlined words only.  
Return to the top and read the italicized words only. 
Breathe in even deeper…
Now read them together!
Katherlyn Geter WE hear you!!  We see you!  We AMPLIFY your message of serving the community. 
For more information on County Commissioner Geter: Katherlyn Geter, District 5 Commissioner, Hamilton County Government" 
Thank you for your time. It is valued and I am honored that you shared it with mE. 
Until next time, 
Be empowered and empower someone else. 
#onelove #blackwomenwinning  #blackgirlmagic