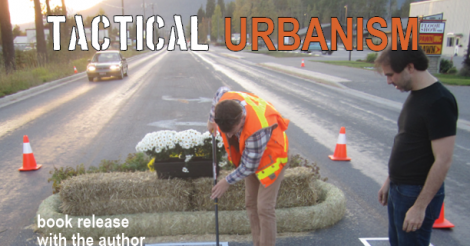 Glass House Collective invites the public to join us for a Meet & Mingle event featuring special guest Mike Lydon on Wednesday, April 22nd from 6pm-8pm. The event, which will take place at green|spaces, unites planning and design experts from across the country for a presentation about Tactical Urbanism.
Tactical Urbanism is an umbrella term used to describe a collection of low-cost, temporary changes to the built environment, usually in cities, intended to improve local neighborhoods and city gathering places. – Pfeifer, Laura. "The Planners Guide To Tactical Urbanism."
Since it's inception, Glass House Collective has used a number of the tactics and strategies outlined in Mike Lydon's globally-acclaimed Tactical Urbanism Volume 1-4 series that you can download here for free. We've worked hand-in-hand with residents from the Glass Street community to create our own examples of projects that include 'short-term action for long-term change'. Through these projects we have re-connected the residents of our community with city planners, local foundations, community organizations, and, mostly importantly, with one another.
Meet & Mingle is one of two public events that will be held during the 3-day Urbanism Conference hosted by Glass House Collective.
Mike Lydon is a Principal of The Street Plans Collaborative. As an internationally recognized planner, writer, and advocate for livable cities, his work has been featured by NPR, The New York Times, CNN Headline News, The Atlantic Cities, Next City, and Architect Magazine, among other publications. Mike collaborated in writing The Smart Growth Manual, honored by Planetizen as one of the top ten planning books of 2010. Mike is also the creator and primary author of the The Open Streets Project and Tactical Urbanism: Short-Term Action, Long-Term Change Vol.1 and Vol.2. A founding member of the New England Chapter of the Congress for the New Urbanism (CNU), a Board Member for CNU New York, and a steering committee member of the Next Generation of New Urbanists, he remains active in both local and national planning, design, and smart growth advocacy issues.
http://www.glasshousecollective.org/wp-content/uploads/2015/03/safe_image.png
246
470
Teal
http://www.glasshousecollective.org/wp-content/uploads/2019/03/ghc-logo-large-2.png
Teal
2015-03-24 01:34:42
2015-03-24 01:34:42
Mike Lydon in Chattanooga