The East Chattanooga Rec Center brimmed with hundreds of enthusiastic volunteers from all across the city by 9:00AM when James McKissic, Director of the Office of Multicultural Affairs for the City of Chattanooga officially welcomed everyone to a day of service concentrated on East Chattanooga neighborhoods. McCallie student, Zion Wynn, delivered a stirring recitation of MLK's "I Have a Dream" speech followed by a welcome from Mayor Andy Burke and comments from various supporters including Southern Adventist University and SunTrust Bank. Our GHC Community Coordinator, Nikki Lewis, wrapped up with instructions about where to gather according to their registered project location.
Following the preliminaries, some volunteers picked up landscaping tools or trash collecting gear to restore local green spaces along Glass Street, while others headed to private organizations needing help with sprucing up storage and applying fresh paint.  Some of the areas that received special attention included our pocket park at the junction of N. Chamberlain and Glass, which received fresh mulch and leveling to prepare for new plantings in the coming spring. Brenna Kelly, Program Director for our partners, the Southeast Conservation Corps, and her team led a hardworking crew of volunteers in that space.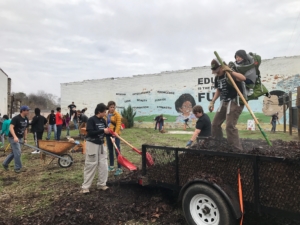 Nearby, a crew of volunteers from Chambliss Center for Children helped complete and transport wooden planters from Studio Everything to the triangle between Awtry and N. Chamberlain, replacing deteriorating boxes to hold fresh plantings in the warmer months ahead. Local Block Leaders, Janette Richie and Jeffrey Evans pitched in on the planter project, and Studio Everything regulars, Chrystion and Amari were excited to receive energetic help for the kind of work they undertake regularly with Rondell Crier. "It feels great to show people around an area that's really new to them, which is home to us. It's fun to see them help us accomplish just in one day what would usually take weeks to finish," Chrystion said.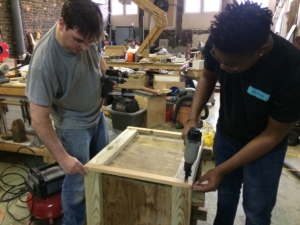 At Christian Community Fellowship, four local sorority sisters from Sigma Beta Xi gave much needed organizing and cleaning assistance, which is wonderful help for a group that has consistently partnered with us in the past to offer support space for our GHC events. And a little ways farther, up Glass Street, volunteers from Causeway's staff pitched in to restore book-cases and drywall for First Steps Christian Daycare. Always ready to roll up their sleeves whenever there's an opportunity to improve our city, the Causeway group included three new team members getting a firsthand taste of their team's consistent service ethic as they gave great help to an important haven for kids on Glass Street.
At the top end of Glass Street, NPS ranger Will Wilson led a clean-up crew to collect trash along the Pennsylvania Reservation connector trail, with help from enthusiastic volunteers like Sarah Hooper of local catering favorite, Dish T'Pass, and her two sons and leaders of Chattanooga Rotary, Harriett and Burton Whitaker who enjoyed the chance to explore a new corner of Chattanooga, having never been aware of Sherman Reservation before now. Geoffery Meldahl, the artist who designed the trail's way-finding signage for our How-To Guide Projects, came to help clear trash too and was delighted to see his sign in great shape!
Just up at the peak of Lightfoot Mill Road, two Baylor school shuttle vans pulled in to unload a crew of twenty sophomores there to pitch in with NPS ranger Chris Barr to give the Sherman Reservation access trail a little TLC. The Baylor students have a history of using MLK Day as a time to serve within our local National Parks, and with today's citywide focus on East Chattanooga, it only stands to reason that the focus would be on our local national park, Sherman Reservation.
Local News Channel 3 provided excellent coverage of the drive to improve local business property and community parks, and featured an interview with our neighbor, Mr. Lee McWhirter, owner of Lee's Barbershop. Volunteers were all smiles working alongside Lee, who is full of stories and insight about Glass Street, and who was in great spirits all day, as Senator Bob Corker came by for a conversation directly following the feast of grilled hot dogs hosted by our local partner, Michele Peterson, director of ArchWay on Glass. Peterson issued an invitation to Senator Corker. Since then, he has shared his positive experience across social media including his official twitter.
Overall, it was a wonderful day of service activities on Glass Street, and we felt gratified and proud to welcome such supportive community members to the neighborhood, and we can't thank everyone enough for the difference made on behalf of each entity mentioned, along with twenty other project sites across the wider East Chattanooga area! What an incredible way to honor Dr. King's legacy together.
http://www.glasshousecollective.org/wp-content/uploads/2017/01/IMG_0263.jpg
1537
2049
Tara Poole
http://www.glasshousecollective.org/wp-content/uploads/2019/03/ghc-logo-large-2.png
Tara Poole
2017-01-18 22:59:39
2018-06-11 17:10:08
MLK Service Day: All Hands on Deck