A generation of quiet and constant community work will receive the tribute it deserves thanks to a new mural project underway honoring an East Chattanooga family, Bishop Willie Charles Hunter and Claudine "Peggy" Hunter.
While the Hunters may be best known for their leadership roles at the World's Church Of The Living God on Glass Street, the mural featuring the Hunters, who have both passed, will soon show everyone just how far and wide the Hunters' hearts reached all across our city.
Fenesa Brewer is making sure of it. "I knew Bishop Hunter had a giving heart. But I did not know he had done SO much!" Brewer said. While doing some preliminary research on the family over the last two years, Brewer said she kept uncovering more and more stories all over the community about the people and places touched by the Hunters' generosity.
"So many people that he helped were asked by Bishop Hunter not to talk about it. But now that he's gone, people are opening up and telling all he did for them which is so much more than I ever knew about," she said.
Brewer said initial fundraising for the mural and site selection are now in progress. The Hunter Memorial Mural Foundation (dba JW Helen Foundation) has been established and project updates and testimonials are being posted on the Hunter Memorial Mural Facebook page. Right now what the project needs most is supporters and awareness and Brewer encourages everyone to like the Facebook page to learn more and listen to some of the testimonial videos posted there. Donations are also accepted from anyone who is ready to give.
Once the fundraising is further along, there will be a local call to artists and opportunity to give input on potential design directions. A panel will be formed with community members and family members to decide on the final design. Once that and the location is set, there will be several community paint parties announced that will open up the creative process to anyone who wants to help paint specific portions of the mural, making it a true community effort.
Brewer says right now the best way to get project updates and stay in the loop is to follow the Facebook Page. She said in the coming weeks and months there will be details posted about an upcoming online auction as well as other fundraising events in partnership with Chattanooga Mom's For Social Justice
Read more about the life of Bishop Willie Charles Hunter and Claudine "Peggy" Hunter in this Times Free Press article from November 2019.
A potential mural design direction to honor the Hunter Family: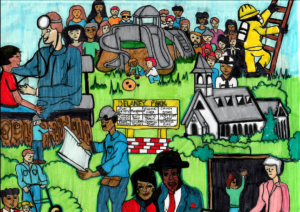 http://www.glasshousecollective.org/wp-content/uploads/2020/01/hunter-mural.jpg
1240
1754
glasshousec
http://www.glasshousecollective.org/wp-content/uploads/2019/03/ghc-logo-large-2.png
glasshousec
2020-01-22 00:54:00
2020-05-19 19:12:39
Mural to Honor Bishop Willie Charles and Claudine Hunter