Planning By Doing Workshops:

Meet The Teams and The Projects! 
Things are moving quickly with the Glass Street Gateway Planning-By-Doing workshops and hopefully, by now you have already seen some of the exciting results installed within a 5-minute walking radius of the new Save A Lot. Two of the teams have already left their marks near the YFD and Hardy Elementary!
Stay Excited! All of the projects from the workshops will be complete between Fall 2020 and Spring of 2021 when we get busy with the next phase of the gateway improvements including an asphalt mural on Crutchfield Street.
MEET THE TEAMS
Team Homebase presented ideas on the beautification of the 'Homebase' – the intersection of Dodson and Glass Street. According to a local community leader, Pastor J, paying homage to a baseball diamond, Homebase will be a meeting of corners, "to inspire a sense of home and community." This temporary installation will include 'the looking glass' which is a piece of movable art with different prompts such as words of encouragement, community resources, pieces of advice, or simply something to be admired or viewed while looking through it. "Everyone from different walks of life will come to this area."… "In order to speak to everyone to reimagine their future no matter what they are going through."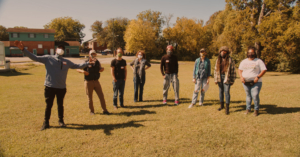 Hardy Glass Development Team brainstormed on a safer route to and from Hardy Elementary and presented their ideas after hearing feedback from local parents and teachers on the need for safety improvements for pedestrians and children crossing along Roanoke and Glass Street. This includes encouraging safer routes and wayfinding for students and pedestrians. The Hardy Elementary mascot is the eagle so this team plans to create stencils to paint on the sidewalk leading up to the intersection and crosswalk. This team also identified a curve near Hardy where vehicles travel at a fast speed. To draw attention to the school zone the team proposed yarn art and fence art to slow traffic. 

The Guardians of Sidewalk Team also presented their ideas on safer commuting to and from Hardy Elementary. Noticing that crosswalk signs malfunction, the team assessed existing infrastructure in order to meet project budget and future cost considerations. Because the north-sidewalks are more appealing due to length, continuity, and minimizing crosswalks, team members discussed the use of colored routes, highlighting bike lanes, and installing a crossing guard replica at the intersection of Glass and Dodson to slow traffic and create awareness for the pedestrian zones. 

The members of You're a STAR Team pitched the idea for the area's very own Walk of Fame. The installation will be located on the sidewalk from Crutchfield to Daisy in proximity to the YFD. This installation includes a stenciled field pattern designed by local students from Hardy Elementary, spray-painted stars mentioning local community heroes, and an opportunity for expansion through future phases. 

The GATHER Team focused on the open spaces around the Save-A-Lot grocery store. With the store being a new anchor for the community, the emphasis was creating a space that includes models for safety, seating, lighting, accessibility, beautification, art, and engagement. Entitled, Create A Recipe – this installation includes large wooden letters that are movable 'furniture'  that spell LOVE and serve as a functional use for seating and eating. 

Glass House Collective has been following this community-informed design process with our neighbors and partners since the organization's inception. We began focusing on this intersection several years ago through a creative community engagement process, which resulted in more than 300 residents identifying landscaping, safety, and beautification as community priorities in the Glass Street Gateway. You will begin to see these projects pop up from now until the spring to complement the new Asphalt Mural on Crutchfield Street. E-mail info@glasshousecollective.org if you'd like to get involved. 
We say thank you to our dream team of partners, friends, neighbors, and GHC staff for making this happen including AIA-Chattanooga, Street Plans, Bloomberg, Lyndhurst Foundation, and the Chattanooga Design Studio.