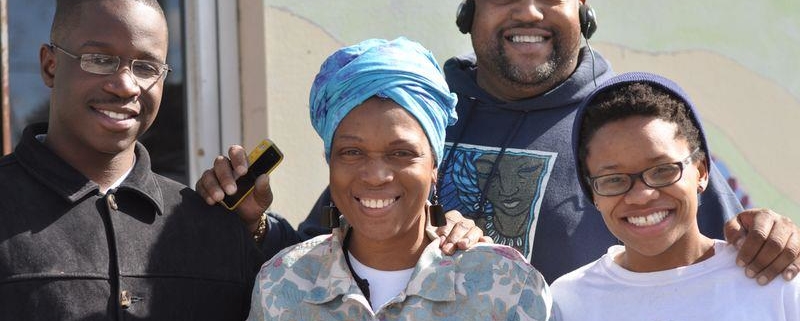 There is a phenomenon in the world of performing arts that is both loved and dreaded by those who survive it. After the actors have rehearsed lines, the dancers internalized choreography, and the directors hammered through notes, all of life comes to a stop for an intense week of putting everything together on stage. This week is referred to as "tech", and it is an exciting, beautiful, busy, crazy time.
It's tech week at Glass Street.
I showed up a little before schedule on Saturday, the last volunteer day before next weekend's Better Block event, and thought I was late. The street was lined and crisscrossed with very focused and very busy people turning months of planning into reality.
Tree planters had already been spaced along the corridor; banners hung from buildings; stacks of ladders awaited Charlie Brower's artistic touch. Doors were propped open to allow for a steady stream of volunteers bearing fabric, paint, and power tools. Crews walked up and down the sidewalks pushing wheelbarrows filled with dirt and gravel.
A transformation was underway. And I was, well, in the way.
In the snatches of conversation I managed to gather, there was a familiar creative energy of happy, if slightly harried, concentration.
"We're building this!" I was told, a roll of paper displaying plans for a community space held out for me to see. Heidi Hefferlin from Hefferlin + Kronenberg Architects kept moving as she told me about the project. She and her crew have only seven days to build a semi-permanent structure complete with picnic areas and a stage I heard a neighborhood hopeful say could be used for a summer concert series.
James McKissic, COO of the Urban League of Chattanooga, was working with another be-hammered crew to set up an art center and exhibit in the former bank building. He will be displaying artwork on loan from his personal collection, and has put together an incredible month-long schedule of jazz performances, curator talks, drumming classes, and even a wine tasting. He emailed me the event list. My calendar just got booked.
In between the Art120 trophy-making studio and Olga de Klein's yarnbomb installation project, I caught a moment with Gail McKeel on the hunt for a long enough hose for the pressure washer. Her pop-up flee market looks amazing, and I was wondering how she had managed to get so much merchandize. "My mom and I are collectors," she told me. "And when we put out a notice to friends that we need additional items for the event, things came flooding in." In the absence of electricity, she and neighbor Daniel have been arranging the shop by lantern-light. It seems work has halted on his housing remodel until after next week.
The morning's pace calmed when I stopped to chat with Mrs. Wright, who was planting tulip bulbs by the neighborhood welcome sign. A "Master Gardener" of a proud seventy-one years, Lucile recounted to me her philosophy of raising children to be self-sustaining hard workers. "Give your best and you will be blessed," she instructed me.
I think the neighbors of Glass Street are taking her words to heart in their preparations. And I for one cannot wait to see the show!
Article written by: Emily Talley with Articulate
http://www.glasshousecollective.org/wp-content/uploads/2013/02/223335_487088504687567_274020911_n.jpg
531
800
Teal
http://www.glasshousecollective.org/wp-content/uploads/2019/03/ghc-logo-large-2.png
Teal
2013-02-21 03:05:56
2013-02-21 03:05:56
Setting the Stage for Better Block