Sore and Happy Working Together
Instead of working from our desks, the Glass House Collective staff spent Friday, August 11 working on site with Habitat's Neighborhood Revitalization team as siding and porch scrubbers for our neighbor, Ms. Patricia. She expressed an overwhelming sense of joy and enthusiasm about the work beginning on her home, and spent much of the morning out on her back porch with Nicole Lewis and Callie Burkhalter, scrubbing down the aged, but sturdy wood.
By the end of the day, the porch looked years younger, and sturdier, thanks to the crew's TLC. The rest of the house repairs and improvements extended to a full gutter sweep, roof and siding scrub, porch carpet removal and scrub-removal of mold and flaking paint, and removal of invasive vines causing partial damage to the home's siding. Inside, one room was also receiving drywall repairs and replacement patching where walls and floorboards were showing signs of damage. It was tough, sore-muscle work that renewed our respect and appreciation for the hard work Habitat's staff and volunteers take on each week, and also rewarding to pitch in and practice new ladder skills.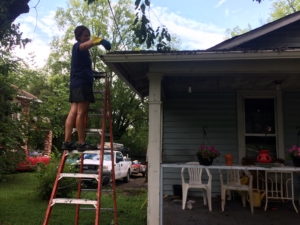 We're consistently hearing positive feedback from residents who have gone through Habitat's NR program, many of whom bridge from their participation on their own residence, to caring for the neighborhood collectively, by attending and participating in meetings and events like the Good Neighbor Network meeting held the first Monday of every month.
During the last meeting, Deborah and David Bledsoe shared about what a blessing it had been for them to experience the Habitat NR program for themselves, as the most recently completed home in the neighborhood. We look forward to finding out what good leadership their renewed energy might bring to our community.
http://www.glasshousecollective.org/wp-content/uploads/2017/08/IMG_1093.jpg
1537
2049
Tara Poole
http://www.glasshousecollective.org/wp-content/uploads/2019/03/ghc-logo-large-2.png
Tara Poole
2017-08-26 17:22:13
2018-06-11 17:09:42
Sore and Happy Working Together