Welcome to the neighborhood: Save-A-Lot Block Party Recap & Mural Unveiling
We're thrilled to welcome Save-A-Lot to the Glass Street community. On April 25, the community came together to celebrate, skate and enjoy live music around the freshly painted Crutchfield Asphalt Mural.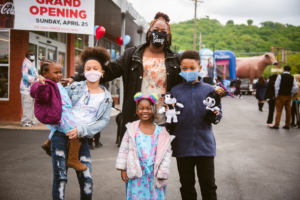 The event kicked off with words from Chattanooga's newly elected mayor, Tim Kelly, as well as thoughts from other community leaders. The day-long party included music from Soundcorps, featuring artists Marcus Ellsworth, 2 Deepwithin, Tyler Andrew, Arche Twitty, Erika Roberts, and Karla Felecia Scaife throughout the event.
The team at Save-A-Lot organized a great spread of food trucks, vendors and family-friendly activities to keep folks happy, fed and out all day. Our friends at Moonlight Roller offered free rollerskate rentals so that neighbors could cruise around on the freshly painted mural, alongside skateboarders, cyclists, neighbors (and the occasional dog).
A huge thanks to our neighbors and volunteers who made the block party, and the days leading up to it, so full of fun, beauty, creativity and engagement.