blog takeover + reflection
featuring erika roberts, ghc creative strategist
Erika Roberts is a creative force. With words written and spoken, she brings power to her art using her strongest tools: language and love. In this new blog takeover series, Erika not only gives us a look into what it's like to be a collaborator forced to work from a distance during a global pandemic, but she'll also introduce the GHC team through the lens of the shutdown later in the series.
___
Pour yourself something good and pull up to this blog. We are in the midst of some amazing conversations with my GHC teammates. These exchanges have been giving mE life.  
Last Friday, while you read my reflection inspired by Lynesha Lake I met with my next muse. Mary Barnett is a media marketing guru. She handles a lot of what you see regarding content on GHC's website and eBlasts. Mary is thoughtful in her approach to sincere media publishing. She is an amazing writer as well.  When I arrived at her home last Friday I was struck at how much greenery was present in the front of her cute and cozy home. From the yard I felt very welcomed. Her speckled dog,"Ivy" was extra excited to meet mE.  
Dive in….
You never truly know if  you're going to be comfortable at someone else's home. We risk the vibe being super lame or way too intense. Neither was the case last Friday. 
As I risked it all and went into her safe place, I was pleasantly surprised and more than relaxed. It is a safe space for Creatives. I was  engulfed in the art on the walls and surprised by the art that wasn't on walls but just living on shelves waiting to be gazed upon. With my eyes wide open I took it all in. All of it.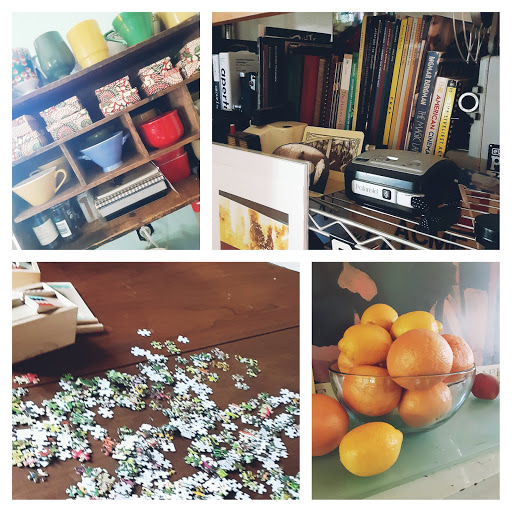 You can tell so much from a person's home. This was her safe space but within it I found that her true safe quarters is within art. She's an artist and I was in the middle of her living studio. Every room was art waiting to be noticed. I spoke to it and it spoke back. 

There's nothing different from the other blogs except my approach and of course each of their specifically chosen words. In the yard I was met by amazing plants and synchronicity as there laid in the yard a bag of soil. Funny how things happen. A month ago I chose the word "soil" for Mary to ponder and write about. That was a pleasant omen that our exchange was going to be rooted and lit.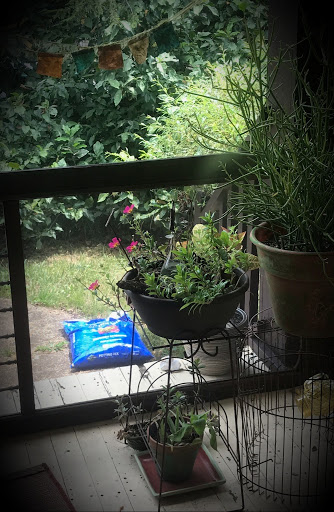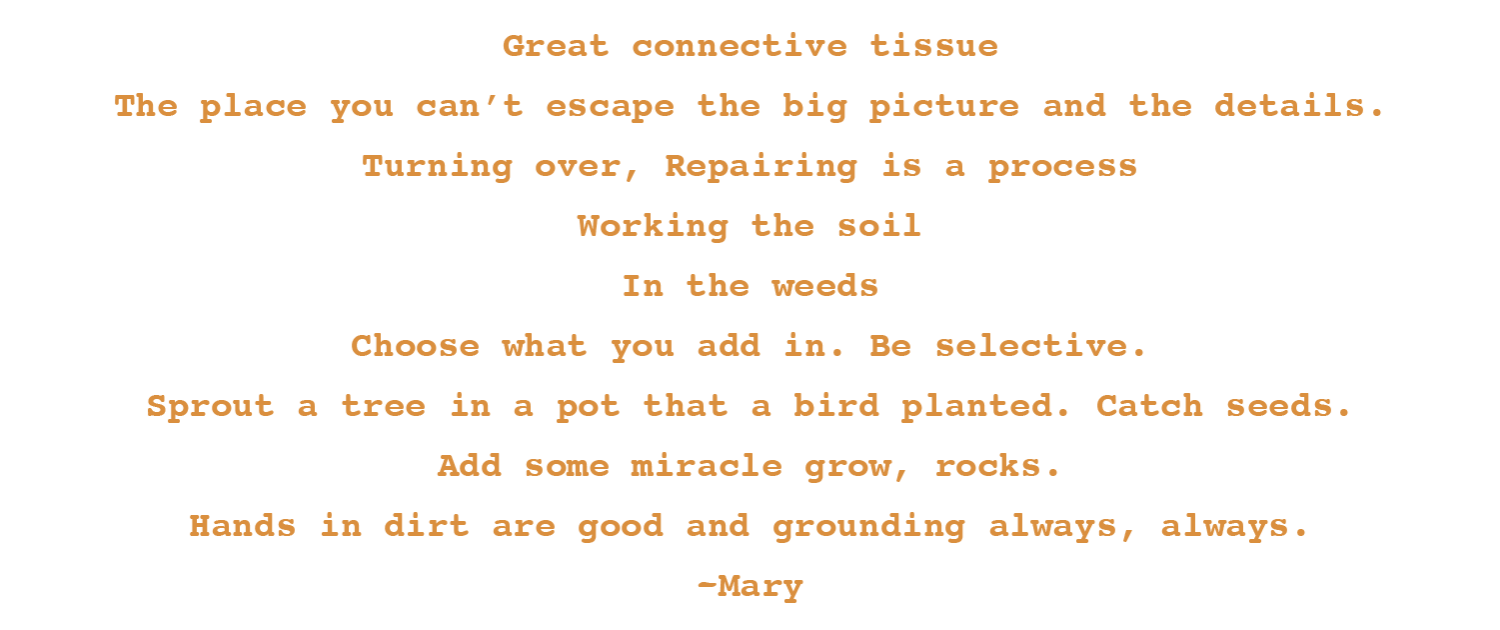 Mary is a natural nurturer and seeing her plant friends proves that major fact. She and I talked about many things community related. We love our community and we know that engagements are so important even in this distant time. 
Before the quarantine GHC met on Tuesdays at the office and we would be together working for several hours. I got to know more about her process of getting to the core of a subject. Understanding that has been most helpful to mE on other projects. As we began living, working and trying to play from home we all changed. Mary speaks of the early days of the quarantine and its blankness. What's next? 
Mary began to take mental stock of her life practices and kitchen pantry and began to focus on survival. She and I had the same thoughts on boosting our immune systems and paying more attention to self care. This became easier for Mary after she misplaced her car keys in the house and just let them be wherever they were. In her own words "I leaned into it."
Healthy fueling was the paramount concern. 

I related to this thinking and preparing as I got sick in March (not Coronavirus) but I needed to make changes. I bought more supplements and began eating even better. Self care became a way of living.
For Creatives a large part of self care is being able to build and create. We need that space for sanity. It helps keep us grounded. Being able to work on something from an art filled space is healthy. Heal thyself. 
Mary was planting seeds of creativity and watching them grow from fertile soil filling up the gaps that had been left barren. As we sipped our ginger shot, I led us into the dirt of building. We spoke on how dirt has to be turned and made ready for the bringing forth. We realized early on that being fertile soil has some advantages and some disadvantages. When you are fertile soil, a lot will come up because it is a happy and welcomed space. Weeds will come up and that's quite okay. Remove only what you don't need. Watch what you allow to occupy YOUR soil. 

"Remember to be an observer and see what wants to be. Small changes matter. Try one thing. Do it again. Go with what is. There will always be more to do. Things change to get what they need. Use what you have. Move from trying to eradicate issues to collaborating with them. Weeds happen.  Ideas are everywhere. Work with what you see. Believe your eyes. Just sit there. " ~ Mary 
This stood out to mE with blinking lights! 
I could not ignore the importance of this conversation. It speaks into how we adjust and recover. I want to reemerge with a forest of creativity healthy from the root up. 
You will know greatness by the fruit those trees bear. 
What are you planting in your fertile soil? 
I cannot effectively express my gratitude to those of you that come here whenever and however to read my thoughts. 
I thank you. 
Take time out this weekend to play in some dirt, buy a plant or just plant something amazing. 
~ Erika