How Does a Holiday Party Become a Time of Reflection and a Place the Community Can Lead?
BACKGROUND:
Since 2012 Glass House Collective has ended the year with a fun, intimate celebration of the holidays and the year's accomplishments. In 2013, the Good Neighbor Network was asked to join in the organizing to inspire a more community-involved experience, which led to a complete hand-off by 2016. The Community Christmas Party was led completely by residents from GNN and other local leaders.
Need:
The Christmas Party has become something that residents have a heavy hand in hosting, which inspires more involvement from the community. It also continues to ring out the year with a reminder of all that Glass Street has collectively accomplished.
WHAT WE DID:
In 2012, GHC asked ourselves: how can a holiday party build confidence and reassure progress is being made? The party was the perfect place to introduce the Glass Street District Design Vision and reassure the community that we hear them and have a plan for the future. 
In 2013 the Good Neighbor Network joined the planning of the party, ensuring that the event was more community-led. Decorations were provided by Daniel Crelinc and Gail McKeel, and a special, surprise invitation was extended to each guest by Katherine Currin of the Lyndhurst Foundation to watch the lighting of the first phase of pedestrian lights on Glass Street.
In 2014, Mark Making and Studio Everything joined the celebration by providing a second location to enjoy the event and crafts for kids to engage in. A special holiday market was also showcased by Studio Everything, featuring work created by the youth in the area.
In 2015, Mark Making continued to provide their space for the event and live music and carols led by Marcellus Barnes of Unity Performing Arts Foundation of Chattanooga soundtracked the festivities. Chris Anderson emceed and began by unveiling the "Painted Gardens" muralettes, a piece by students from Orchard Knob Middle School and Girls Inc., and "The Kings and Queens of East Chattanooga," a series of 3-D printed sculpture masks created by youth in East Chattanooga.
In 2016, the community residents took full control of organizing the event, with Katie McAllister taking charge and organizing a potluck-style dinner. The event recognized standouts from the Block Leaders program: Dr. Evelana Holms, Glenda Welcher, Janette Richie, Johnny Patmon, and Jeffery Evans.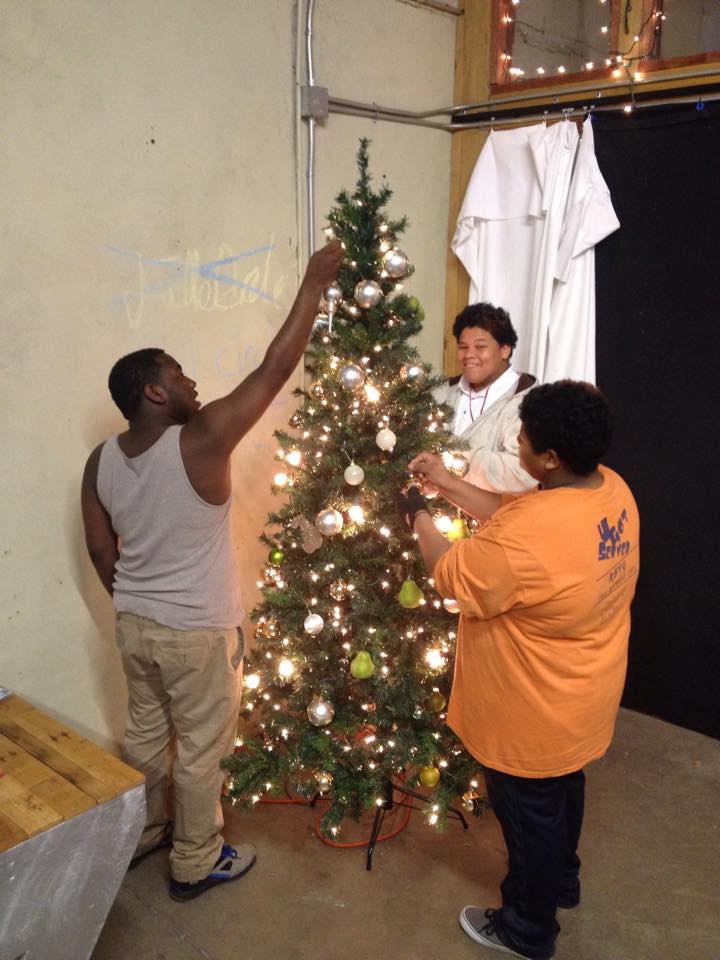 VISION:
The Community Christmas Party was initially launched to assure the community of the plans for the neighborhood. Since then, it's become a time of reflection and fellowship where we can celebrate the good that has shown through in each resident and each neighbor throughout the years.
Partners:
Good Neighbor Network (2013-2016)
Mark Making (2014, 2015)
Studio Everything (2014)
Marcellus Barnes (2015)
Katie McAllister (2016)
http://www.glasshousecollective.org/wp-content/uploads/2018/12/48370236_2147441228652278_6193885136287694848_n.jpg
960
720
glasshousec
http://www.glasshousecollective.org/wp-content/uploads/2019/03/ghc-logo-large-2.png
glasshousec
2019-01-04 02:36:13
2019-01-04 02:36:13
Warmth & Hope At the End of the Year
http://www.glasshousecollective.org/wp-content/uploads/2015/12/Holiday-Holiday-Party-Pic.jpg
1122
1122
Teal
http://www.glasshousecollective.org/wp-content/uploads/2019/03/ghc-logo-large-2.png
Teal
2016-01-04 15:56:28
2016-01-04 15:56:28
Glass Street Holiday Party